For his commitment and dedication, Dr. Kevin recently received the Fargo VA Health Care System's "Clinician of the Year Award" and the North Dakota Chiropractic Association's "Chiropractor of the Year".
Meet the Bjorlie Chiropractic Team
Dr. Kevin Bjorlie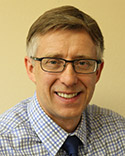 Above and beyond chiropractic care and physiotherapy treatments, Dr. Bjorlie also offers acupuncture/meridian therapy. He and his wife Selina have 3 children and live in Fargo.
He would love to get to you know you and your family and assist with your health care needs. Please contact Bjorlie Chiropractic to schedule your appointment.
---
Dr. Aaron Renelt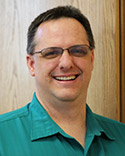 We are pleased to have Dr. Aaron Renelt, a 1998 Palmer College of Chiropractic graduate, as a practicing chiropractor in our same location.
I have enjoyed being in private practice here in the FM area since 1998. I am a proud member of the North Dakota Chiropractic Association (NDCA).
I am married to Amy and we have 2 Children named Kiersten and Kelsey. Throughout our time here in Fargo as both professionals and in our college years, my wife, Amy, and I have been very active in the community. Amy, Kiersten, Kelsey, and I also enjoy spending time together as a family camping, going to Bison games and sharing time with other members of our families. I also enjoy the outdoors and if I am not with my family you will usually find me fishing, hunting or spending time outdoors.
For more information please see his website at www.reneltchiropractic.com.
---
Our office staff consists of two kind and caring individuals:
Maggie
Maggie recently moved to the FM area from IN.
She has been a welcome addition to our team since February of 2023.
Tehryn
Tehryn has worked on the business side of the chiropractic industry for a number of years now.
She has been a part of our team since February 2023. aaaaaaaaaaaaaaaaaaaaaaaaaaaaaaaaaaa
---
Bjorlie Chiropractic | (701) 235-8050